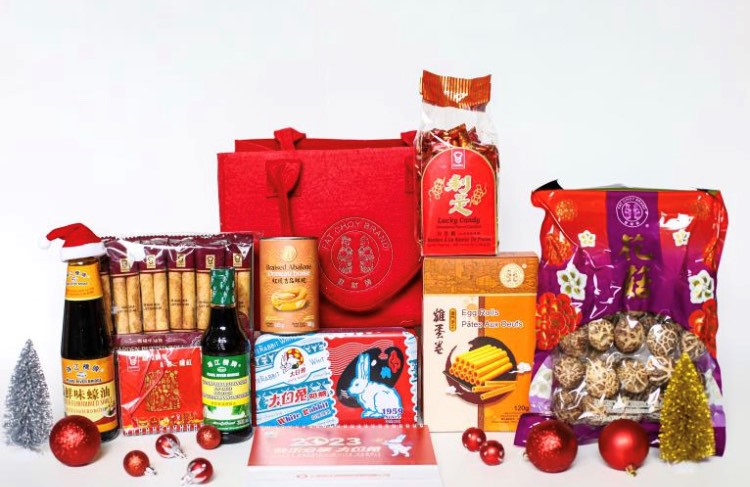 Holiday Gift Baskets
Happy Holidays are coming!  It is time to celebrate the holidays seasons with friends and family. This fancy gift pack is definitely a perfect gift that everyone will love. Each gift pack comes with premium quality snacks/other delights food and it is wrapped in a beautiful red velvet bag. The highlight in this gift pack is including one can of Fat Choy Brand high quality 30 pcs Abalones and one pack of Fat Choy brand Dried Shiitake Mushroom. Those are popular ingredients to make delicious dishes for the party during holidays.  Apart from this, this also includes well known brand (Pearl River Brand) Oyster Sauce and Gluten Free Low Salt Soy Sauce.  They are ideal seasoning sauce for the party food. Besides this, it is with a variety of yummy snacks such as White Rabbit Candy in fancy tin packing, Fat Choy Brand Macau Style Egg Rolls Cookies, Garden Brand Butter Rolls Cookies and Garden Lucky Candy.  

 What's included in the gift pack:-
No
Chinese Description
Eng Description 
Packing
1
發財牌紅燒吉品鮑魚 (30 頭)
FAT CHOY BRAISED ABALONE (30 PCS)
Net WT: 425g
Drained WT: 180g
2
發財牌切足茶花菇 
FAT CHOY DRIED FLOWER MUSHROOM
250G
3
嘉頓利是糖
GARDEN LUCKY CANDY
350G
4
大白兔奶糖 (復古鈇罐)
WHITE RABBIT CREAMY CANDY (TIN PACKING)
228G
5
珠江橋牌無麩低鹽生抽
PEARL RIVER BRAND GLUTEN FREE REDUCED SALT SOY SAUCE
300ml
6
珠江橋牌金裝鮮味蠔油
PEARL RIVER BRAND OYSTER SAUCE
510G
7
發財牌澳門手工蛋卷
FAT CHOY BRAND EGG ROLLS COOKIES
120G
6
嘉頓牛油蛋捲
GARDEN BUTTER EGG ROLLS COOKIES
228g
Delivery

Pickup and Delivery is available! Free Ground Shipping Across Canada. 
Additional 18% for Sun Wah Foods Followers
Additional Information
Free Gift of 2023 Holidays. Limited quantity while supplies last.